What can ClassBuilder do for you?
ClassBuilder is an integrated office suite for teachers.
The main menu allows you to easily browse:
Exams
Graded exams
Gradebook
Reports
Import/Export Drivers
ClassBuilder Main Screen
ClassBuilder makes building a class easy from the very start! There is no need to remember the file names, or path locations of your files. Simply browse the various gradebooks, exams, or reports that are available in the names you provide.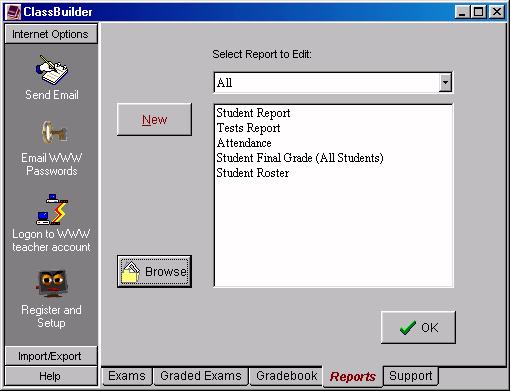 Step 1 - Creating an Exam
ClassBuilder can create new exams, in no time, to use in class or on-line. ClassBuilder allows you to visually create and change your exam, which makes exam creation simple and quick. Point scores can be automatically assigned based on the value of points you give each section. The answers themselves can be randomized.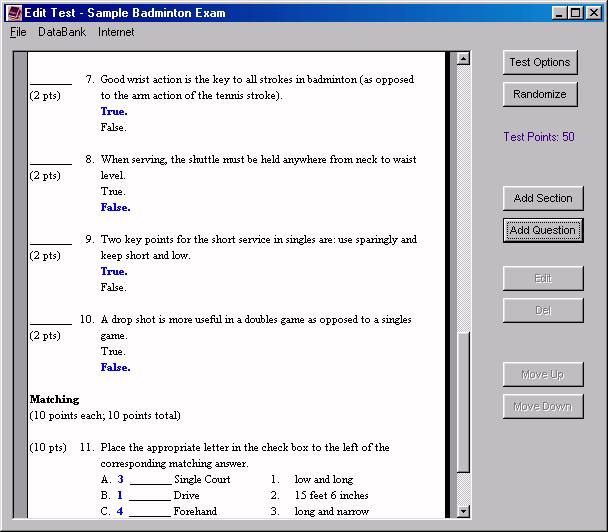 Step 2 - Post the Exam to the Internet
You post your exam to the Internet by simply clicking the "Post Test to Internet" button on the "Exams" tab of the main screen. Your exam then will be automatically available to the classes you selected.
Step 3 - Notify Students of a New Exam
To make your students aware of a new exam, email them by clicking the "Send Email" icon.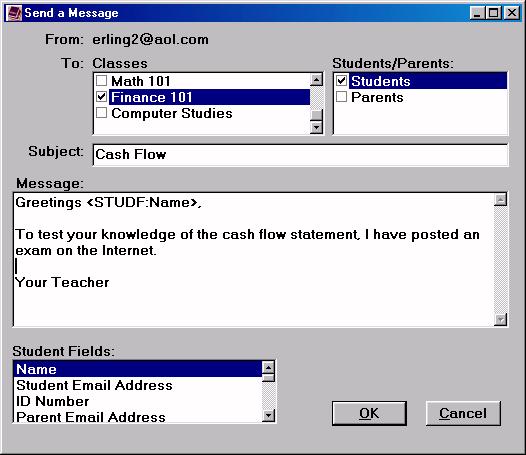 Step 4 - View the Teacher Menu On-line
You can logon to your www account by clicking "Logon to WWW teacher account" to see which students have completed the assignment. To begin grading the exam in ClassBuilder simply go to the "Graded Exams" tab and select "Retrieve Handed-In Exams From Internet".
Step 5 - Grade Exams
Your exams are automatically graded for non-essay type answers. The grade exam viewer makes it easy to browse different exams, as well as viewing the statistics of the overall exam. For example, you may want to know that 4 students answered A to question 1.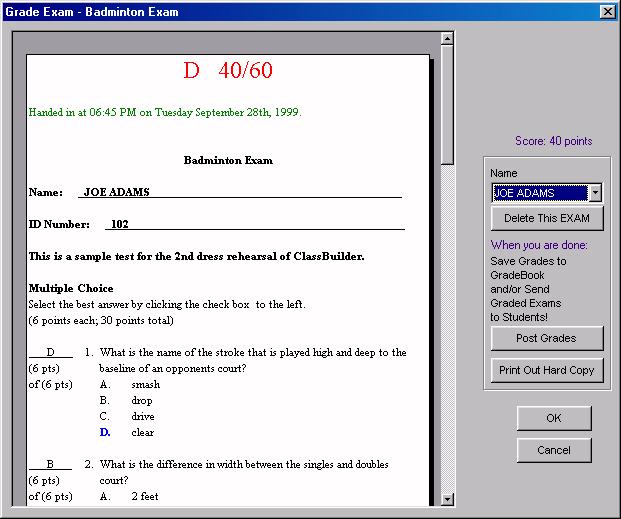 Step 6 - Post Results to the GradeBook and On-line
ClassBuilder allows you to automatically post graded exams to both the gradebook and directly on-line to your students. Your students will receive an email notifying them of their grade, and allowing them to see the actual graded exam on-line.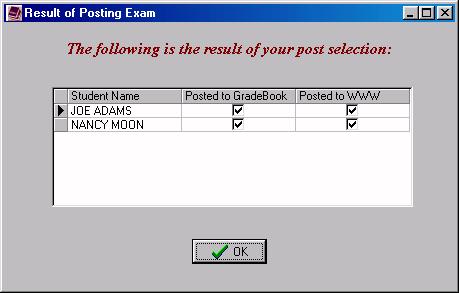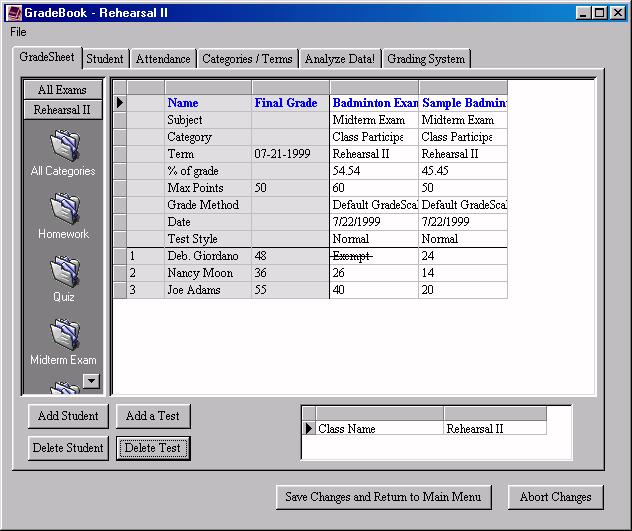 Step 7 - Create or Edit a Report
If the sample reports are not enough, ClassBuilder includes a visual report tool that allows you to create any type of specialized report you need. You can easily add any type of data to your report, which can then either be printed out or sent directly to the server for on-line viewing. The reports currently support Text, Line, Grid, Attendance, and Grade Scale objects.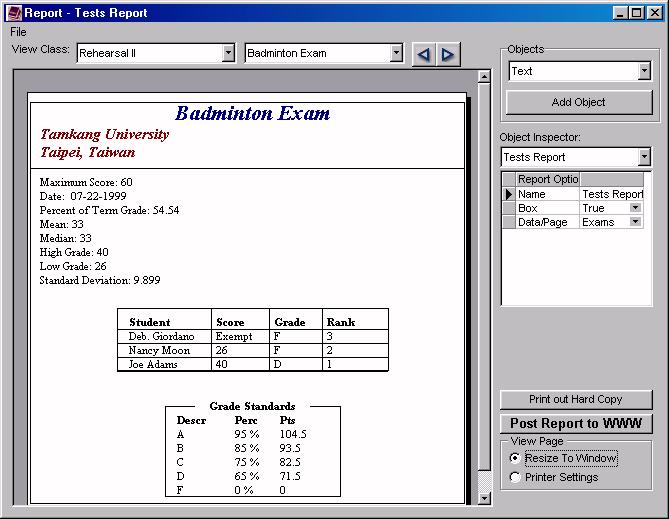 Step 8 - Post Reports On-Line
You can post a report on-line by simply telling ClassBuilder which Classes you wish to make the report available to. The students in your class will automatically be notified of the new report.