Overview

edHelper Quiz Maker is an easy to use tool that allows you to create quizzes, tests, and assessments. This online tool gives you the flexibility to create quizzes whenever and wherever you want, provided you have access to the Internet. You can automatically print multiple keys, change the order of questions, and include vocabulary on your quizzes. It has never been easier to create and organize your quizzes!

This tour consists of seven sections: getting started, list quizzes, questions, vocabulary, quiz online, print quiz, and gradebook. To navigate through the tour, you can use either the "next" or "previous" links or jump directly to a section of your interest by clicking on one of the links in the menu above.
---
Get Started

As an edHelper subscriber, your subscription already includes access to the quiz maker tool*. If you are not yet a member, click here to join.

To begin creating your quiz, sign in to your account and click the quiz maker tool link. You can either create a new quiz from scratch, or import a quiz from another document (e.g. Microsoft Word). Whichever way you choose to create a new quiz, you will need to provide basic information including the quiz title, grade level, category (e.g. Language Arts, Social Studies, Science), directions and header, and points. Once you click the Save Changes button, you are ready to add questions to the quiz.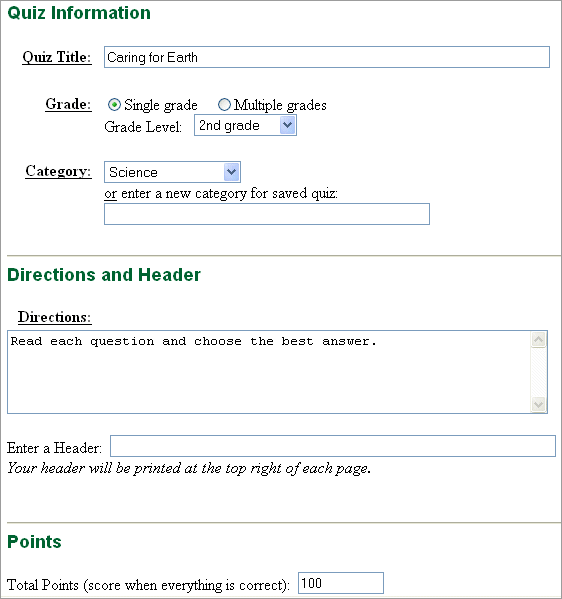 * Some features (Quiz Online and Gradebook) are available only to customers who subscribe to the everything package. If you are an existing member with either the Grades K-8 or Grades 9-12 subscription, you can upgrade your account to the everything package for a small fee. Click here to upgrade.
Next >
---